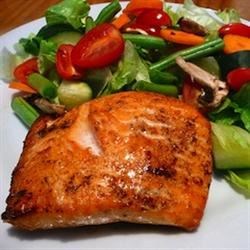 Hi, its Marion here from Maresca Fish. I've been wanting to show you forever how to broil fish so, today, I'm gonna explain how to broil a piece of salmon. We eat salmon at least once a week and when you don't want to get in front of a hot grill or you don't want to smell up your kitchen with a piece of fish on the stovetop, then broiling is the perfect answer. If you enjoy having a tasty piece of fish that is flaky moist in the middle and just like golden on the outside then I can explain how its done.
To start with you're just going to take a piece of salmon, fillets, whole or portions – it doesn't matter any will do. You want to make sure, especially with fish, that it's seasoned really well, so just put a little bit of salt on top of it, and that's it. You don't need oil, you don't really need anything else.
If you wanted to do a marinated piece of broiled fish, you could simply search for a recipe for broiled scallops with miso – delicious! But, for just a simple piece of broiled salmon that you're going to put on top of salad or vegetables – this is how you do it.
Put your broiler on – broiling uses heat from the top. That's what's going cook the fish – the heat. You see, the only heat, is coming from the top of the broiler so you need to put the fish in carefully and, for a normal piece of fish with average thickness it's going to cook for about 12 minutes. I love to use my toaster oven. I know you're probably thinking why is using a toaster oven? Why not use your regular oven but after all , it's summertime right now and it is really hot and so why not use the toaster oven. You can save a lot of money on your electricity bill and the kitchen itself does not get as hot, so you can broil up to four pieces of fish or shrimp or scallops using this smaller over – awesome! As I mentioned, the salmon is going to cook for about 12 minutes. If you wanted to broil scallops, it would be about four minutes. Shrimp would be about three minutes. All you're trying to do is cook it through. Don't flip as you're going to let that heat just cook right through to get that nice golden color on the top. This also keeps it moist and that's all it takes so now you just let the broiler do its job.
12 minutes later you hear that ding! That's when you know that it's all ready to go aah and that's what I'm looking forward to. Once its done, you should have a gorgeous inner layer of pink fish and on top you have this coral colored skin. That means its perfectly grilled and obviously the only way to check if it is that divine. Now, that only took me a few minutes to make – it's so easy.